Ball track. Vårbergstoppens stadspark
A small part of the park has a ball track built on site. The track follows the form of nature and the surroundings.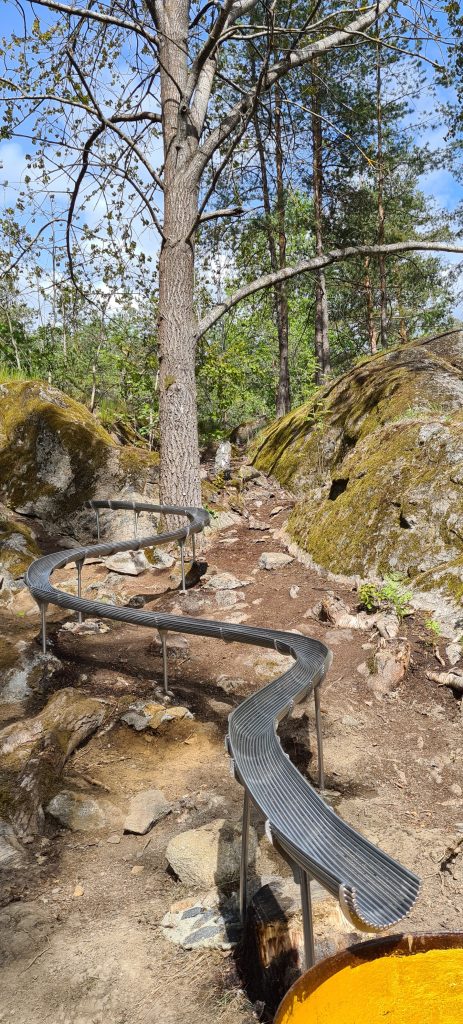 These were some items I made for Sneakersnstuff's newly opened store in Daikanyama, Tokyo. The mission was to do some metal objects influenced by classic Japanese crafts and tradition, but focusing on "porn weld." Thank you Jenny Askenfors at Bofink Designstudio.
´´SUPERMOLN´´ SNEAKERNSTUFF. NEW YORK.
´´BLACKOUT´´
ID:I GALLERI
COMFORTABLE NUMB
ANSWERING PRAVU
Seven corpus artists and a philosopher have joined hands and heads to produce a discourse, starting out with a set of fundamental questions related to corpus/jewelry in words; and resulting in a set of answers formulated as objects. The work being displayed is therefore the discourse itself, swinging between the opposites of words and things. Visitors are invited to participate by extending the circle of discourse with their own words articulated between sips of coffee.
OCTOCORPUS
---
´´SUPERMOLN´´
1% KONST
Reflektion utan vila och Reflektion med vila har utsetts till Årets projekt 2013 med följande motivering:
"Ett projekt där tre förvaltningar och ett bolag, som aldrig tidigare samarbetat som konstbeställare, lyckats gå samman och sätta konsten främst- och därtill vågat lita på konstnärerna som mitt under pågående process hittade en mycket bättre konstlösning än den samrådsgruppen dittills hade kunnat föreställa sig.
Tack vare ert tänkande på tvärs, finns nu konst av högsta kvalitet i Engelbrektshallen, Engelbrektsskolan och det nya bostadskvarter som bildats runt Engelbrektsskolans gård."
MOUTH TO MOUTH
´´REFLEKTION UTAN VILA´´
´´REFLEKTION MED VILA´´
´´DOODLE´´
´´ONE DAY I WOKE UP AS A BUG´´
LURPARKEN. TELEFONPLAN
HELMET FOR JACQUES C
KU-PROJECT, KONSTFACK
OPTIMAT
RED RELIEF
ELEMENT